Going back to School, wish me luck!
---
Hi everyone,
For those of you that don't know I've been battling many health issues and been stuck on Disability for a long time. Needless to say Disability doesn't give enough money to support a gerbil let alone a man. I have missed working and feeling productive so I have made up my mind to go back to school (I'm 51 and you can teach an old dog new tricks!) I have been checking into Motorcycle repair schools and found one that sounds promising since its a home study course and I can get my motorcycle repair credentials in about 6 months if I bust my butt. Its something I can do from home and I've already built a couple businesses in my life (computer repair, water filtration) So starting a new business is nothing new to me. The school is reasonably priced, a little over $50/month so now I am collecting aluminum cans and anything else I can scrap and turn into money to pay for school. I spent the last week with Louie helping me get the garage ready for my soon to be new business. I am so excited and as soon as I can swing the payments I'm going to reinvent myself with a new career so Louie, my girlfriend, kids and grand kids, and I can have a better life. Please wish me luck, I plan on passing this school with straight A's and I'll settle for nothing less.

Thanks for all your friendship, this truly is my favorite forum to talk about anything and you all have no idea how much just knowing all of you has helped me mentally, not to mention how much Louie is grateful that you've all taught me so much on how to spoil my best furry friend!

Your friend always,
Jerry, Louie's Human
__________________
I'm a Louie dog, give me a treat!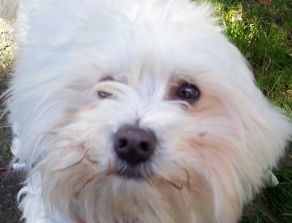 At the Bridge...
Smokey my Shepard/Husky mix
Brutus and Trooper, Doberman's
Tera, Great Dane
Ralph, Mixed assortment of furry beasts
Gremlin, Husky
Peanut, Dachshund
Slick and Mr. Foo, cat brothers
Chubby my big fat gray cat with tighty whitey's
Skinny butt, mixed breed female cat
rag-a-muffin, wild haired mixed breed cat