One of my favorite things about the breed is their happy-go-lucky nature. Most are extroverts and are always up for a good time....whatever "good time" means to you'
They are eager to please and will work hard for food, praise, or toys. I also love that when I want to sit and read a book....that's exactly what the Pap has in mind! And then....that butterfly face held such an appeal for me!
This was one of the three other Paps I've had (two were mine, one was a foster). This is Jasper - he was a rescue from a puppy mill up in the midwest. He was 2 years old when I got him, 16 litters registered to him (not even close to the breed standard!), and he'd NEVER been out of a cage. He adjusted really well (took a while), and I loved my little guy...I lost him in 2004 (age 16).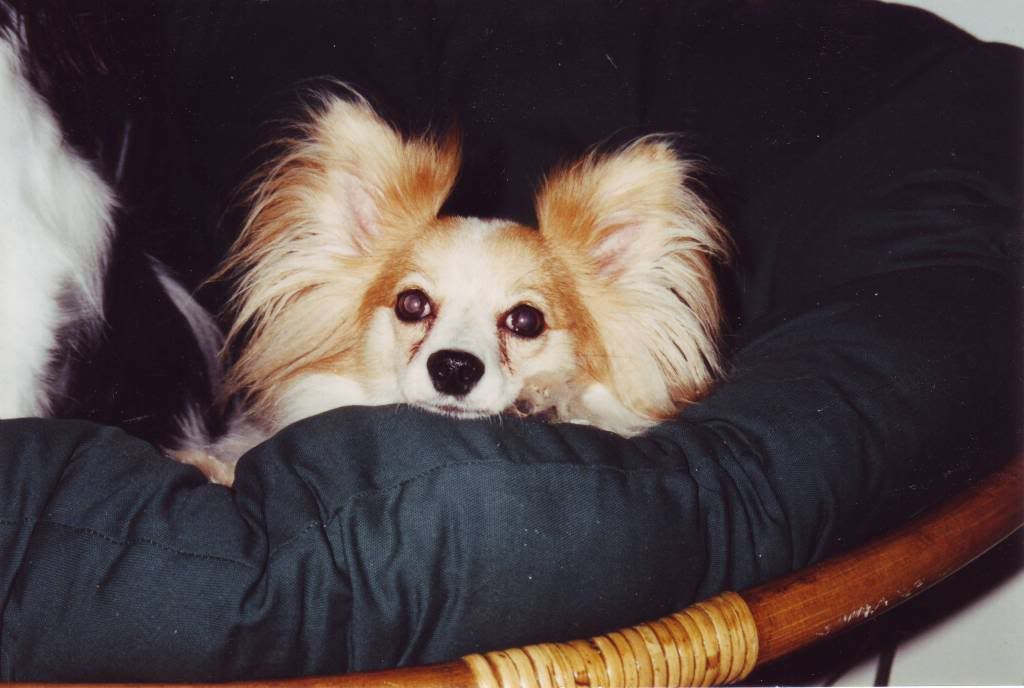 This is Ch The Right Stuff, CGC, AKA "Stuff." I got him from a breeder in 1991 (he was 8mos old when I got him - but stayed with a handler for most of the time until he was 15mos old and had finished his championship. I had Stuff until 2006. He was the love of my life...and he thought I hung the moon (never could convince him otherwise).
Here are all three of them (including Cruiser, the foster, who ended up going to a nurse-friend of mine where he lived to be 19!) -
Anyway, I say all these things, but quite a few of the toy breeds fit this description...Like I said, I don't have any experience with Maltese, but each one I've ever met fits the description above! And I LOVE the faces of Maltese - either with the puppy cut or show coat.....I just want to kiss that little face!!!