I did it, Louie enjoys being groomed!
---
It took some doing, some patience and practice but now Louie seems to enjoy being groomed (he still isn't thrilled with the baths but he behaves very well while he tolerates it)

Today Louie got fully brushed out, then combed out. I clipped the few small matts that wouldn't come out even with Kinky Kurly Knot today. Once he was completely brushed/combed from snoot to tail I gave him his bath. From neck back he gets his pearl/coconut whiting shampoo, from neck to face he gets Johnsons baby shampoo. I also use the baby shampoo with a toothbrush to clean his tear stains, mustache and beard. Once I rinsed him off and towel dried him with 3 towels I let him do his race around the house until he tired out (takes a good few minutes, lol) Then I mixed some kinky Kurly knot today with warm water and went over his entire body with it rubbing it in throughly and the lightly towel dried him since I didn't want to rub off the conditioner.

Once he dried the second time I went over him with the Madden brush and two combs and completely brushed combed him out again. The leave in conditioner really helped the brush and comb go through much easier. Now he is one very soft, very fluffy Louie dog.

BTW: I am letting his hair grow out for now, he looks like a midget sheep dog!
__________________
I'm a Louie dog, give me a treat!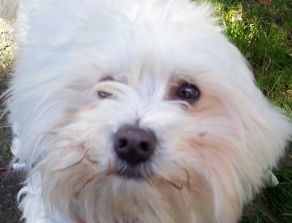 At the Bridge...
Smokey my Shepard/Husky mix
Brutus and Trooper, Doberman's
Tera, Great Dane
Ralph, Mixed assortment of furry beasts
Gremlin, Husky
Peanut, Dachshund
Slick and Mr. Foo, cat brothers
Chubby my big fat gray cat with tighty whitey's
Skinny butt, mixed breed female cat
rag-a-muffin, wild haired mixed breed cat