---
Ghosts, its funny you mentioned this as we have been joking about it here. There are times when both Louie and My cat will all of a sudden look at the same direction, Louie will growl and my cat will hiss. She will go over and bat at things we don't see while Louie watches her back. It is almost always high up in a corner of the room so we know its not from someone outside. Then one night I was in my music studio relaxing between songs, the room was quiet and both Louie and Miss Boo were sleeping in there. No one else was in the house except my girlfriend and she was sound asleep. All of a sudden I heard a sound that I can only describe as someone bouncing a marble off the wall directly behind my head. Both Louie and Miss Boo immediately woke and looked as I was turning to look too. Nothing was there but Miss Boo ran over and was jumping at the wall like she was trying to attack something. The sound was in the room with me, not from outside the room. The other side of the wall is the bathroom and no one was in there and even the plumbing is on a different wall.

We also constantly find cabinets open that we know were closed and they have magnet catches that hold them closed and they are out of reach of both Louie and Miss Boo. We also find things moved that we know for sure where we put them just minutes before. For example I have a habit when I come home that all my change, wallet and keys get put in a glass tray on a shelf in my studio. This habit is so strong in me that until I do it I don't feel right (OCD) I could be blind stinking drunk and still wake up with these things in the tray, not that I drink much anymore but just as an example nothing stops me from completing this task within minutes of taking my shoes off. Then I go to grab my keys when I am the only one thats been home and they are not there when I know there is no freaking way my OCD would let me put them anywhere else. There are certain things I have put in a place that I know I can find even with my eyes closed like a flashlight in case the power goes out and I routinely test myself at night walking through the house with my eyes closed to get the flashlight or what ever else I am testing myself with and find it with no problem. My girlfriend knows not to ever move any of these things as I will go crazy until they are back where they should be.

The strangest one happened when my girlfriend was out of town. I was watching an old movie on the VCR (yes still got one) and realized the store was going to close in 10 minutes and I was almost out of root beer a cardinal sin in this house! I paused the movie locked the door and ran to the store and was back within 15 minutes. I hit play on the VCR button only to find a different movie in the VCR! A movie I didn't even like, I about chit myself! I looked for the movie I was watching and it was back in the cabinet. The movie that was in the VCR was one that was in back of other movies because we never watch it. To this day I can't explain how this happened and I wasn't drinking anything except root beer.

We do know the previous owner of this house passed away. So far its just been really weird stuff, noises that made no sense, things moved, a light turned on or off when we stepped out of a room for a few minutes. I don't believe in ghosts, heck I'd believe in life on other planets before I believed in ghosts. I do believe our pets can see/sense things we can't, but what are these things? I don't know.
__________________
I'm a Louie dog, give me a treat!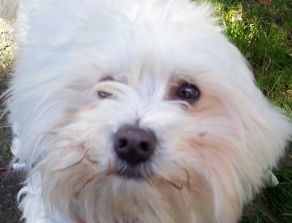 At the Bridge...
Smokey my Shepard/Husky mix
Brutus and Trooper, Doberman's
Tera, Great Dane
Ralph, Mixed assortment of furry beasts
Gremlin, Husky
Peanut, Dachshund
Slick and Mr. Foo, cat brothers
Chubby my big fat gray cat with tighty whitey's
Skinny butt, mixed breed female cat
rag-a-muffin, wild haired mixed breed cat
---
Last edited by Rocks; 12-31-2012 at

01:29 PM

.