Quote:
Originally Posted by
Zoe's Mom88
Well it does sound like he is getting enough food. And his bathroom habits sound normal. Looks like your doing a good job with Louie....massages and all, Louie is a lucky boy and is living the good life. Carrots are a great treat too. Glad to hear he cannot get near the cat's food because cat food has much more protein than dog food and too much protein for this little guys isn't good.
Thanks, he deserves the best I can give him. I just wish I had more income to really spoil him properly. He needs more winter clothes and he chews through nylon leashes like they are free and I refuse to use a chain leash on him. His step in harness works great. As soon as I pick it up he knows to sit down and raise his head so I can slide it on. Although when he really wants outside bad I have to play "chase the face" to get the step in collar on him. I just love it when I am outside for a few minutes and he watches me from the window, all I have to do is say "go to the side door" and he takes off like a rocket to meet me at the door. He loves car rides but the motorcycle rides are his favorite.
The massages are great because they help me find any matting before it gets bad so I can deal with it right away. I try to not cut out the mats unless they are too bad. He even got used to the tooth brush on his face to clean his tear stains and beard, he isn't thrilled about it but he knows it is going to get done with or without his cooperation so he just deals with it. I've been using johnsons baby shampoo mixed with warm water with the tooth brush and having pretty good results with the staining, its not perfect but for a dog that loves to lay on a garage floor he will never be completely clean except right after his bathes.
I do really love this little monster, he stole my heart with his soulful eyes and funny behavior. I know in my heart that if anyone hurt him They would have a serious problem with me and considering my martial arts training and the fact that I've done board breaking exhibitions and full contact martial arts fighting they would really regret ever hurting my Louie dog. My fastest knockout in martial arts fighting was 2.9 seconds of the first round, the guy never even knew he was hit, he just woke up laying on his back asking what happened. I haven't done the martial arts fighting in years because it scared me when I knocked that guy out and they took him off in a stretcher, I could have killed him and that was enough for me to stop fighting for sport. I still break boards with my hands and feet just for fun and to amaze people that never seen me do it. The look on their eyes is priceless! I guess something about seeing a guy break 3 or 4 2x4's with one hit just amazes people. I still catch flies out of the air with my hands just to keep my hand eye coordination and hand speed up to snuff.
The funny thing is I am one of the most passive people you'd ever meet, just don't mess with my family or pets or you'll see a completely different person emerge, but you'll only see it for a few seconds and then you'll come to on the ground wondering what just happened, lol.
__________________
I'm a Louie dog, give me a treat!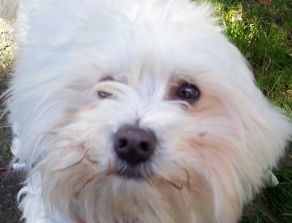 At the Bridge...
Smokey my Shepard/Husky mix
Brutus and Trooper, Doberman's
Tera, Great Dane
Ralph, Mixed assortment of furry beasts
Gremlin, Husky
Peanut, Dachshund
Slick and Mr. Foo, cat brothers
Chubby my big fat gray cat with tighty whitey's
Skinny butt, mixed breed female cat
rag-a-muffin, wild haired mixed breed cat