During my trip home to VA for the Thanksgiving holiday, I was lucky enough to be able to go see Carina (of CloudClan Maltese) show. She showed three of her stunning girls Cherish, Cherry B and Leah who all did beautifully, and I had such a blast watching them! After the show, Carina and her sweet mom, Andrea invited me to their lovely home to spend time with the rest of their clan. I had such an amazing time hanging out with all of them and was completely in heaven amongst all of the gorgeous CloudClan fluffs! I even got to meet the baby, Chobani who is just beyond precious!
I've been meaning to share pictures with all of you for weeks and just now getting around to it! Be warned...there are A LOT of pics!!! They are from my phone so not the best quality but I hope you will still enjoy them.
Carina - thank you so much again for having me over! I had a wonderful day with you and loved spending time with all of the CloudClan! I am so in love with all your gorgeous and sweet fluffs!
And now for the many, many pictures...
Here's Carina showing Cherry B: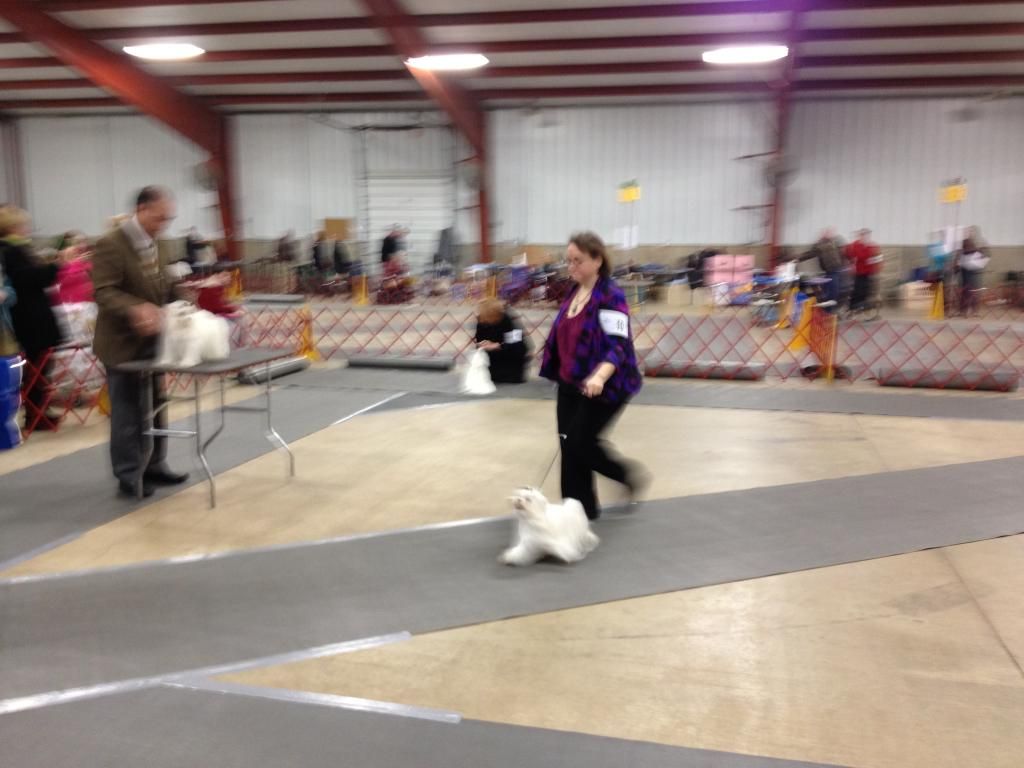 And Cherish hanging out with her grandma at the show:
At Carina and Andrea's home -
Here's sweet little baby boy Chobani taking a nap. I watched him play with this dinosaur toy for quite a while - it was sooo cute! And then he got tired and dragged it on to his bed to cuddle and nap with! Too precious!
And while the baby was napping, we gathered up the rest of the CloudClan on the couch and tried to take some pictures. We ended up having to take MANY because at least one of the fluffs would move or look away! I'm going to share a bunch of them...well, because they are just too cute not to!
From left to right in the first picture...Cacia, Cherish, Cadeau, Cherry B, Leah and Cadie.
Cacia, Cadeau, Cherry B, Leah, Cadie and Cherish.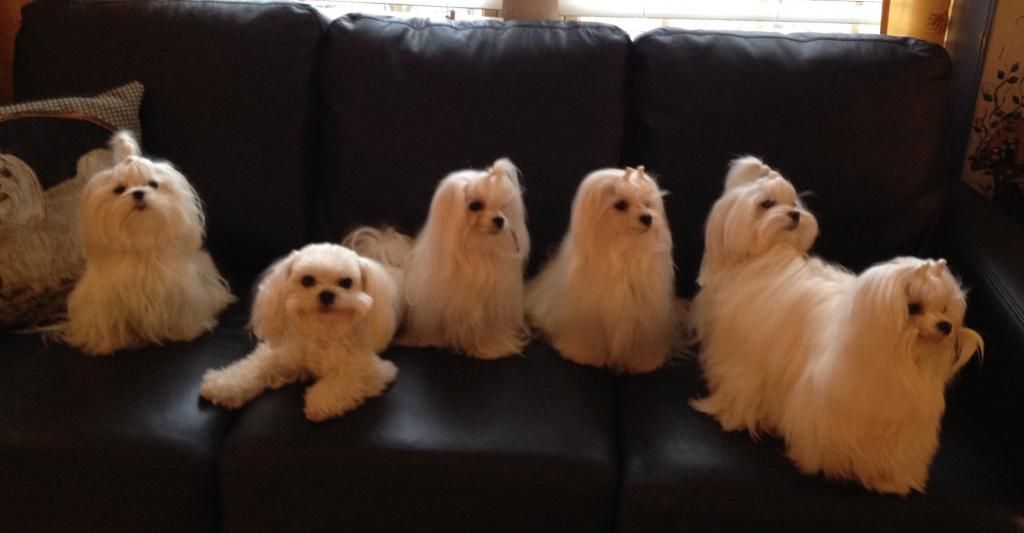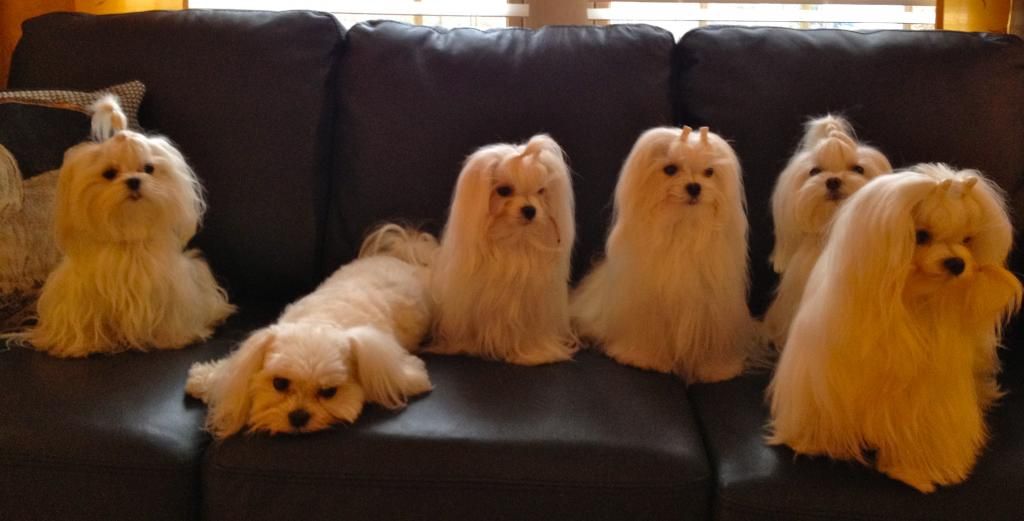 And then we took a bunch of pics of ME with the adorable CloudClan! I think some of these are so funny because the dogs were busy checking each other out and some were just plain over the picture taking! But clearly, I was in complete heaven with all these beautiful malts around me!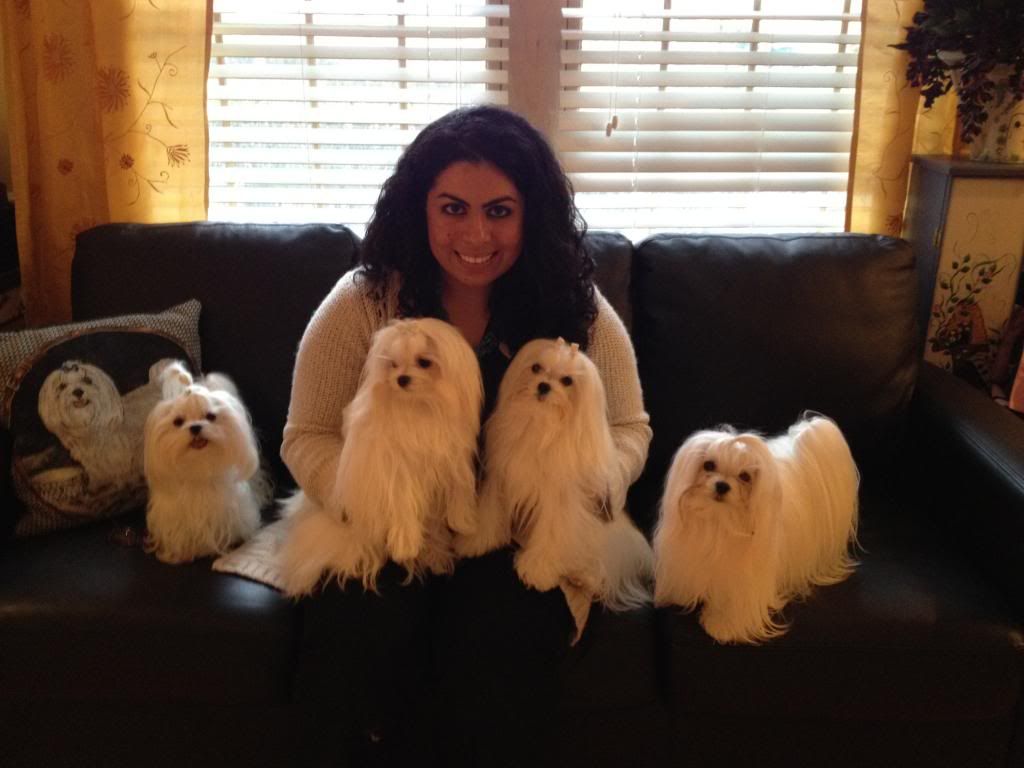 More pics (and videos) to come!