---
There are so many I don't know where to start!

the first time I had to let him out to do his business in the snow we had snow that was well up past his chest. He proceeded to make a path to his favorite pooping spot, then circled around until he smashed down his own "crop circle" to poop in. he then went on to make paths to his next pooping spot (he never does it all in one spot) and make another circle. He created paths to where he P's and where he likes to stand and bark to see what other dogs are out too. Now I have to shovel the grass for him so he doesn't have to do this.

He will grab a toy, bring it over by me in his mouth and throw it at my feet and look at me waiting for me to play with him. If I don't move fast enough for his liking he'll pick it up again and throw it at me again. he will repeat this until I get down on the floor and play with him.

When its time for him to go out all I have to do is hold his harness and he steps right in and lets me fasten it. Then he proceeds to do circles while I try to attach the tie out or leash until I tell him to sit.

If you spank his butt repeatedly he growls and play bites me. Of course I am just lightly tapping him in a playful way and his bite is just barely touching my skin. He loves to rough house with me and wrestle on the floor, he always wins.

Of course any closed door with him on one side and me on the other is a no-no, I can't even poop without letting him in the bathroom.

He knows when the brush, comb and scissors come out that as much as he hates it he has to behave or that dreaded disappointed tone in my voice comes out. It is the same when he gets his daily exam from me. I check his teeth, eyes, nose, ears, butt and feel all over for mats or any spots that may be sensitive in case he got hurt and I didn't know.

He loves the mail man but hates ANY cable guy that comes in the house. He makes sure he puts himself between me and any person he doesn't know in a protective fashion. Once my girlfriend came over to play fight/tickle me and even though Louie likes her he growled and bared his teeth at her. She wasn't happy but now any time she says anything I can threaten her with "you better be nice or I'll sick Louie on you"

If I tell him "I think mommy is getting a Louie bone" he will follow her around with those eyes until she gives in and gets him one.

There is much more, some of which has already been said like the taking of food out of the bowl and eating it somewhere else. I'm looking forward to reading more funny fluff stuff.
__________________
I'm a Louie dog, give me a treat!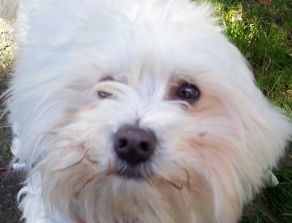 At the Bridge...
Smokey my Shepard/Husky mix
Brutus and Trooper, Doberman's
Tera, Great Dane
Ralph, Mixed assortment of furry beasts
Gremlin, Husky
Peanut, Dachshund
Slick and Mr. Foo, cat brothers
Chubby my big fat gray cat with tighty whitey's
Skinny butt, mixed breed female cat
rag-a-muffin, wild haired mixed breed cat