Louie the motorcycle mechanic is part grizzly bear!
---
HI,
Everyone, Louie and I haven't been on much. I started a motorcycle repair school so I can get off disability. Louie has been great helping with working on motorcycle, I got him a nice comfy couch cushion that he likes to kick back on while I work.

One things i noticed is when Louie doesn't like someone he is a force to be reckoned with. He generally takkes his cues from me, if he things i like someone he is fine, but some people he don't know and I'd swear I had a werewolf on the leash. Of course as soon as I tell him "chill out" he calms down but keeps an eye on them waiting for them to do something he doesn't like. He likes the mailman but hates any cable guy that comes over, I have to lock him in the room. He loves kids and most people but some people he just wants to eat.

PS anyone know where I can find a black leather motorcycle jacket that is made for small dogs?
__________________
I'm a Louie dog, give me a treat!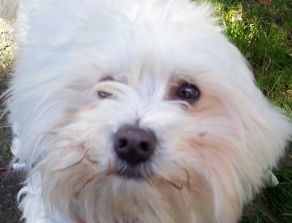 At the Bridge...
Smokey my Shepard/Husky mix
Brutus and Trooper, Doberman's
Tera, Great Dane
Ralph, Mixed assortment of furry beasts
Gremlin, Husky
Peanut, Dachshund
Slick and Mr. Foo, cat brothers
Chubby my big fat gray cat with tighty whitey's
Skinny butt, mixed breed female cat
rag-a-muffin, wild haired mixed breed cat